Thinking of Hiring a Caregiver on Your Own? It Comes with Risks
When it comes to in-home care, you have choices. You could hire on your own, use a placement agency or registry, or use a home-care agency like Caring Friends. Hiring on your own, however, comes with legal risks for you and your family. Unfortunately, many families don't find out about the legal risks and pitfalls of hiring on their own or using a placement agency until it's too late.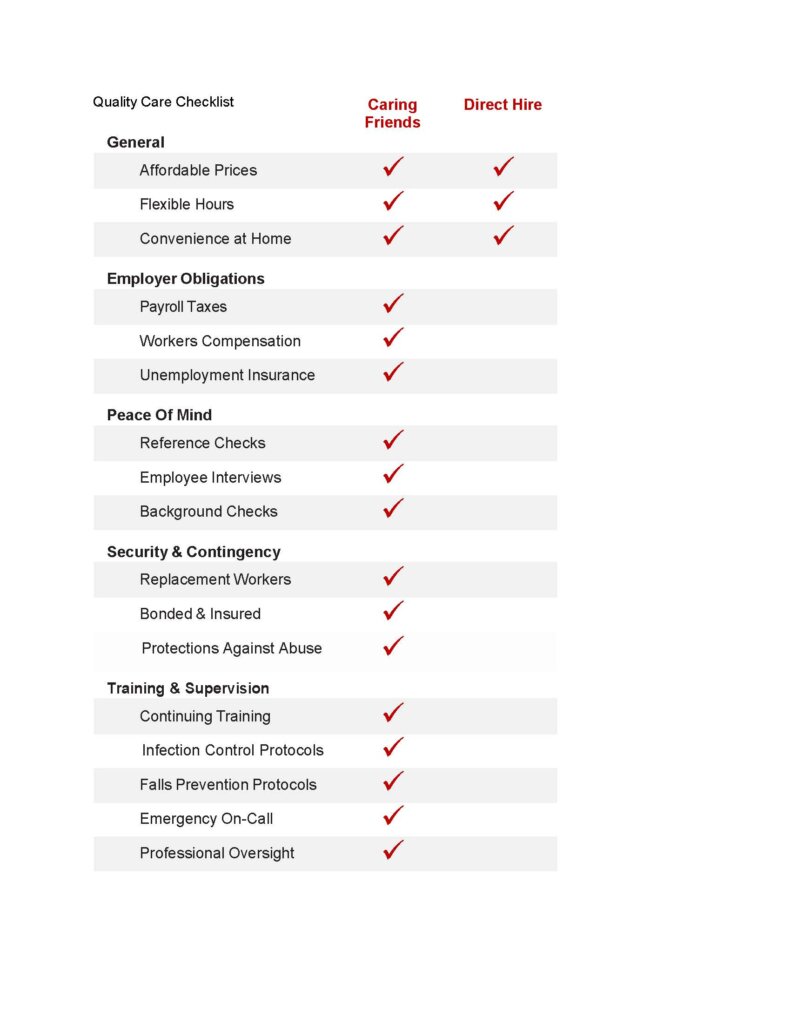 Hiring on Your Own
If you hire on your own, you have a lot of responsibilities.
Taxes: As the employer, you will be responsible for paying and supervising the Caregivers and paying taxes. You will be liable to the IRS for any Social Security taxes not paid, unemployment compensation not paid, and payroll taxes not withheld.
Insurance: Private Caregivers very rarely carry their own professional insurance. You may be liable if the Caregiver gets hurt on your property. Your Caregiver will not be eligible for worker's compensation and does not receive health insurance and other benefits. That means, if a Caregiver has been injured while working in your home, you could be responsible for paying medical expenses and lost wages until they can return to work.
Hiring a private Caregivers usually means you wouldn't be covered in cases of theft, fraud, property damage or abuse.
Managing Your "Employee": You should conduct interviews, call references and run a criminal background check before hiring. You will be responsible for negotiating pay rates, ensuring the Caregiver has the appropriate skill set and training, discussing performance issues, and being "on-call" to deal with a crisis or a worker.
Placement Agency or Registry
A placement agency, or registry, screens Caregivers and matches them with clients, but does not employ direct-care workers. They are simply referral sources. The consumer is the employer and must pay employment taxes, supervise Caregivers, and assume liability for on-the-job injuries. Hourly rates appear lower because they do not include employment taxes. They typically charge an agency fee on top of the hourly rate.
Just as with hiring on your own, if you hire from a placement agency or a registry, you may liable if the Caregiver gets hurt on your property. Your Caregiver will not be eligible for worker's compensation and will not receive health insurance and other benefits. And, you have no protection against fraud, theft, property damage or abuse.
Using an Agency Like Caring Friends
Caring Friends takes the burden off your hands of finding, hiring and managing a Caregiver. We conduct robust background checks on Caregivers and match them with clients based on physical needs, likes and interests and client-Caregiver chemistry. Because we have a roster of Caregivers who are our employees, we can make a switch if the Caregiver fit isn't right and we can staff emergencies if a client's needs change or if a Caregiver becomes sick 24/7. We have a Care Team that makes sure all client needs are met and provides constant communication to the Caregiver and the family to make sure everyone is in the loop on your or your loved one's condition.
Caring Friends pays Caregivers' wages and employment taxes, carries workers' compensation insurance, offers continuous education and a career pathway and provides benefits. We comply with state and federal regulations with regard to employment practices. While the hourly rates charged are typically higher than placement agency rates, the total all-inclusive cost to you is comparable.
We accept long-term care insurance and can manage your claims.
Before deciding to hire on your own or using a registry, be sure to ask these questions:
Will you be able to use your long-term care insurance policy?
How often will you have to pay mandatory payroll taxes? How much time will this take?
If you don't purchase a worker's compensation policy, what will happen if your employee hurts him or herself while working for you?
Do you have the time and energy to be an employer?
Are you interested in learning about your in-home care options? Contact Caring Friends today at (484) 532-5232.